Audi A4 Owners Manual
Changing bulbs in boot lid
Rear lights in boot lid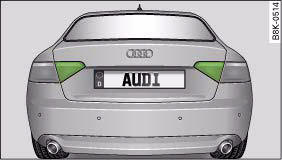 Rear lights in boot lid
• Rear fog light
• Reversing light
Before you begin working, please make yourself familiar with the different bulb versions.
Removing bulb carrier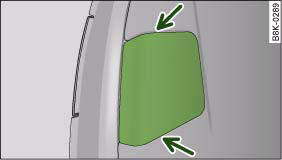 Boot lid: Opening the cover in the boot lid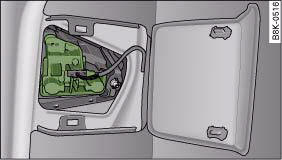 Boot lid: Removing bulb carrier
The description for changing the bulb refers to the left rear light unit; in principle the same procedure applies to the right rear light unit.
– Check which of the bulbs is defective.
– Open the boot lid.
– Take the screwdriver out of the vehicle tool kit.
– Using the flat-blade side of the reversible screwdriver insert, carefully detach the cover cap ⇒ fig. 307 -arrows-.
– Release the retaining tab and remove the bulb carrier from the light unit.
– Change the bulb.
Changing bulb / installing bulb carrier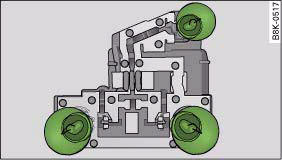 Bulb carrier
– Renew the defective bulb (pull to remove from plug-in holder or turn to remove from bayonet holder).
– Insert the bulb carrier into the rear light. Make sure you hear the retaining tab click into place.
– Fit the cover back in the interior trim so that it engages.
– Put the screwdriver back into the tool kit.
– Make sure that all bulbs for the rear lights are working.










© 2023 www.audihelp.com. All Rights Reserved.