Audi A4 Owners Manual
Opening and closing the boot lid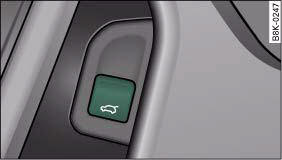 Driver's door: Unlocking the boot lid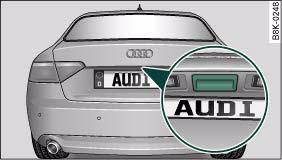 Release catch on the boot lid
Opening boot lid
– Press the

button on the remote control key for at least one second, or
– Pull the unlock switch

on the driver's door, fig. 45, or
– Press the release catch on the boot lid ⇒ fig. 46.
– The boot lid is unlocked and opens automatically.
– Push the boot lid up slightly to secure it in the open position.
Closing boot lid
– Pull down the boot lid by the handle on the inside and let it drop into the latch ⇒
.

WARNING
• After closing the boot lid, always check that the catch has engaged properly. The boot lid could otherwise open suddenly when the vehicle is moving - this could result in an accident.
• The boot lid must always be completely closed when the vehicle is moving, otherwise toxic exhaust fumes can be drawn into the interior.

Note
When the vehicle is locked, you can unlock the boot lid separately by pressing the

button on the remote control key. The boot lid will lock automatically when you close it again.
Manual release of the boot lid
The boot lid can be released manually from the inside.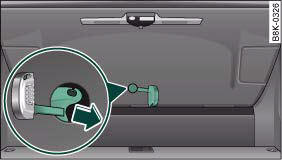 Luggage compartment: Access to manual release
– Prise off the cover (using the emergency key) ⇒ fig. 47.
– Press the sliding lever in the direction of the arrow to unlock the boot lid.










© 2022 www.audihelp.com. All Rights Reserved.