Audi A4 Owners Manual
Overview
There are several storage compartments at various points in the vehicle.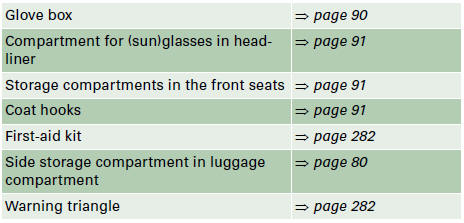 Glove box
The glove box is equipped with a lock* and a light.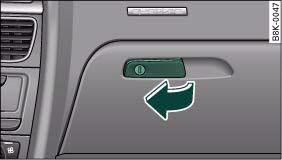 Glove box
Opening glove box
– Pull the catch on the lid in the direction indicated (arrow), fig. 101 and open the lid.
Closing glove box
– Close the lid and push it in until it engages.
The glove box lid has separate holders for a pen and a note pad.
On the right-hand side of the glove box there is a holder with a key shell. In order to start the engine with the spare key, it has to be clipped into this shell.

WARNING
To avoid the risk of injuries, always keep the glove box lid closed when driving.
Compartment for (sun)glasses in headliner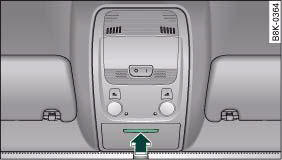 Compartment for (sun)glasses in headliner
– To open the cover, lightly press the panel ⇒ fig. 102 (arrow). The cover will then open by itself.
– To close the cover, push it upwards until it engages.

WARNING
Always keep the compartment cover closed while the vehicle is in motion to reduce the risk of injury during a sudden braking manoeuvre or in the event of an accident.
Coat hooks
The coat hooks are located on the rear side of the B-pillars (in the rear passenger compartment).

WARNING
• Please make sure that any items of clothing hanging from the coat hooks do not obstruct your view to the rear.
• Only use the coat hooks for light items of clothing and make sure that there are no heavy or sharp objects in the pockets.
• Do not use clothes hangers to hang up the clothing, as this could interfere with the function of the head-protection airbags*.
Storage compartments in front seats
There is a fold-out drawer in the front part of each front seat.
Opening
– Pull the handle to open the compartment.
Closing
– Close the lid and push it in until it engages.
Note
The storage compartment will hold a maximum weight of 1 kg.










© 2022 www.audihelp.com. All Rights Reserved.